#LIFETIME ACTIVATION
✔Delivered In email ! this is electronic software You will get the software. you purchased immediately after payment
FL Studio is the result of over 20 years of continuous development, to become the fastest way from your brain to your speakers. Many of the world's top DJs and producers started by downloading the FL Studio trial, making their first beats a bedroom studio. Now it's your turn, our trial allows you to make and save projects, then export them to audio formats like MP3 and WAV, ready to share with the world. How far will FL Studio take you? Mix and master music to the highest professional standards. All the features you need to create today's most complex productions including: effects chains, audio sends, sidechain control, advanced automation, plugin delay compensation and more… No other DAW matches the flexibility of FL Studio's Playlist. Sequence all elements of the project to make the final song. Tracks can hold notes, audio and automation. Place any data type anywhere and even overlay them. Use the Browser to organize all the data in your project. Free your workflow and your mind! FL Studio's Piano roll has the well deserved reputation as the best Piano roll in the business. The Piano roll is used to send note and automation data to plugin instruments (sequencing). It includes a wide range of tools to aid complex score editing and manipulation. If the huge array of native instruments and effects are not enough for you, FL Studio supports all VST standards 1, 2 and 3. VST gives you access to the widest range of 3rd party plugins currently available. You can even use FL Studio itself as a VST plugin in another VST host.
Requirements
Windows: 7, 8, 10 or later
macOS: 10.11 or later
4GB free disk space
4GB of RAM or higher recommended
The more powerful your CPU, the more instruments and FX you can run.
FULL SONG CREATION AND MIC RECORDING
Image Line FL Studio 20 Producer Edition is is a full-featured music production environment that's loaded with instruments and studio tools to spark and capture your creativity. This DAW's Mixer includes effects chains, audio sends, sidechain control, advanced automation, multi-touch support, and more. Its feature-packed Piano Roll makes arranging and sequencing a breeze. Beyond that, its flexible Playlist allows you to use Audio, Automation, and Note data in any combination. Benefit from a super-fast workflow, thanks to FL Studio's Browser. Use third-party VSTs to bolster its already impressive selection of built-in plug-ins. Whether you're composing, recording, editing, or mixing, FL Studio is an innovative tool for creating pro-quality music.
AN IMPRESSIVE ARRAY OF POWERFUL NEW FEATURES
To celebrate the 20th anniversary of FL Studio, Image Line has skipped versions 13–19 and gone straight to 20. And it's a worthy update. Benefit from support for time signatures, along with unlimited time signature changes. Take the load off of your computer with in-situ rendering (freezing). Create with multiple arrangements, each with their own complete layouts of audio, automation, and pattern clips. Plug-in delay compensation ensures a smooth mixing experience. You'll also enjoy a refined Graph Editor, "Legacy" Precomputed FX, an upgraded Channel Sampler, and a bevy of new and updated plug-ins. And — for the first time — you can run FL Studio on your Mac with full VST and AU support!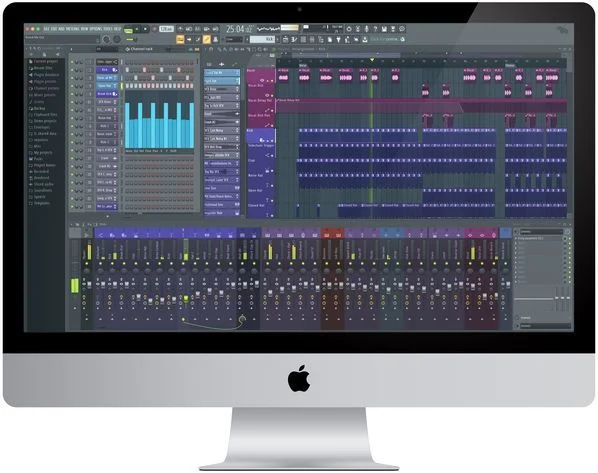 TONS OF VIRTUAL INSTRUMENTS
With FL Studio 20 Producer Edition, you can make virtually any sound. Right inside the box, you get 13 virtual synthesizers, giving you great-sounding acoustic/synth bass, electric guitar and plucked strings, sampler tools including a piano, beat-slicing, and tons more. And whether you're looking for traditional instrumentation or electronic excitement, FL Studio's powerful browser makes it easy to search sounds by category. At Sweetwater, we're impressed by the quality of FL Studio's built-in instruments — they give you a lot of great sounds to work with!
FULL-FEATURED MUSIC PRODUCTION ENVIRONMENT
FL Studio's flexible audio tools let you beat-slice, time-stretch, chop, and edit your audio, while the enhanced Edison Wave Editor offers spectral analysis, convolution reverb, loop-recording, and more. Plus, each track can include up to eight effects and can be routed to any of the other audio tracks. A range of effects are already included right in the box to inspire your creativity and put the polish on your mixes — you'll enjoy giving your tracks everything from delay, distortion, EQ, filtering, phasing, flanging, chorus, vocoding, and reverb. Mastering tools like multiband compression/limiting and parametric EQ are included as well.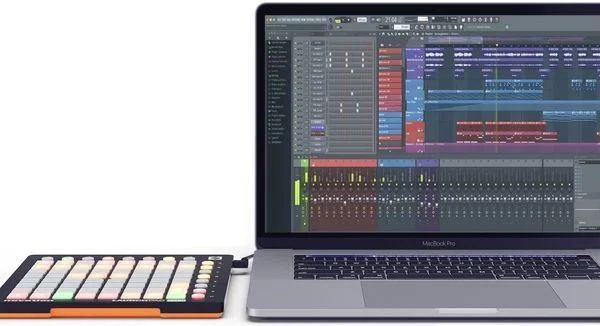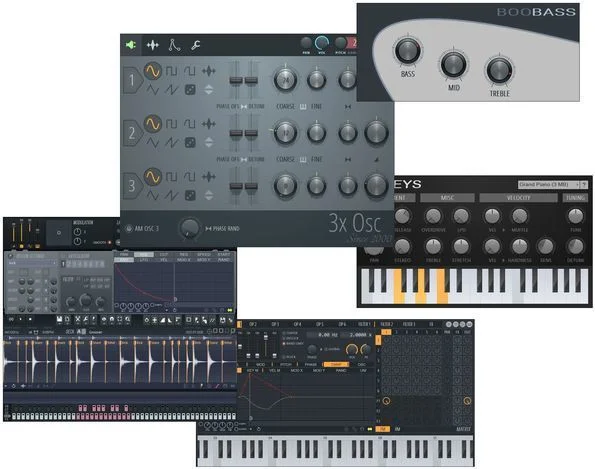 INCLUDED INSTRUMENT AND GENERATOR PLUG-INS:
AUTOMATION
Automation Clip Generator
Envelope Controller
Keyboard Controller
SAMPLE PLAYBACK/MANIPULATION
Audio Clip Generator
BooBass
Channel Sampler
DirectWave Player
FL Keys
Fruity Pad Controller (FPC)
Granulizer
Slicer
Slicex
Wave Traveller
SYNTHESIZERS
3x OSC
Autogun
BassDrum
BeepMap
Drumpad
Fruity Kick
Fruity DX10
Groove Machine Synth
MiniSynth
Speech Synthesizer
FL FlowStone
Sytrus
Wasp/WaspXT
TOOLS/GENERATORS
Control Surface
Patcher
Dashboard
Fruity Video Player2
Layer Channel
MIDI Out
ReWired
FL Studio Mobile Plug-in
INCLUDED EFFECTS PLUG-INS:
AUTOMATION
Formula Controller
Peak Controller
X-Y Controller
COMPRESSORS/LIMITERS
Fruity Compressor
Fruity Limiter
Fruity Multiband Compressor
Soft Clipper
Maximus
Soundgoodizer
DELAY/ECHO
Delay
Delay 2
Delay 3
Delay Bank
DISTORTION
Blood Overdrive
Fast Dist
Fruity Squeeze
WaveShaper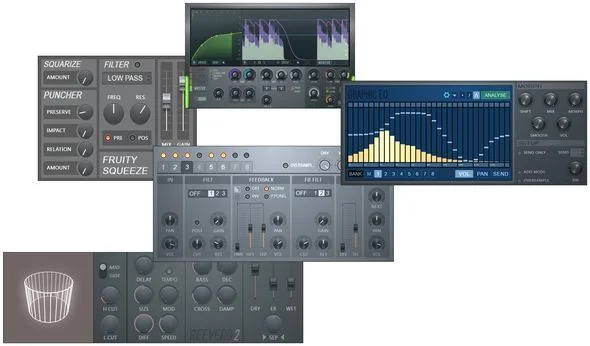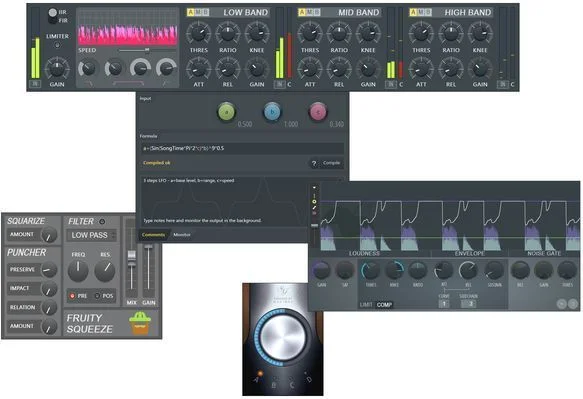 EQ
Edison Equalize Function
Convolver
EQUO
Fruity 7 Band EQ
Fruity Parametric EQ
Fruity Parametric EQ2
FILTERING
Fast LP
Filter
Free Filter
Love Philter
Vocoder
Vocodex
PHASING/FLANGING/CHORUS
Chorus
Phaser
Flanger
Flangus
REVERB
Convolver
Reeverb
Reeverb 2
Edison Convolution Reeverb
MULTI FX
TOOLS
Control Surface
Balance
Big Clock
Center
Patcher
dB Meter
HTML NoteBook
LSD
Mute 2
NoteBook
PanOMatic
Phase Inverter
Scratcher
Send
Stereo Enhancer
Stereo Shaper
VISUALIZATION
Fruity Dance
Spectroman
Wave Candy
ZGameEditor Visualizer
IMAGE LINE FL STUDIO 20 PRODUCER EDITION FEATURES:
NEW Support for time signatures, along with unlimited time signature changes
NEW In-situ rendering (freezing) takes the load off of your computer
NEW Multiple arrangements, each with their own complete layouts of audio, automation, and pattern clips
NEW Plug-in delay compensation ensures a smooth mixing experience
NEW Refined Graph Editor, "Legacy" Precomputed FX, upgraded Channel Sampler, and new and updated plug-ins
NEW Mac compatibility with full VST and AU support
Full-featured music production environment
Mixer includes effects chains, audio sends, sidechain control, advanced automation, multi-touch support, and more
Feature-packed Piano Roll makes arranging and sequencing a breeze
Flexible Playlist allows you to use Audio, Automation, and Note data in any combination
Browser organizes all the data in your project for a super-fast workflow
Offers delay, distortion, EQ, filtering, phasing, flanging, chorus, vocoding, reverb effects, and more
Supports third-party VST2, VST3, and AU instrument and effects plug-ins
Vectorial interface allows you to resize and rearrange your workspace
Can permanently learn and remember links to external controllers
Live DJ control provides powerful live performance and clip-triggering
Visualizer effects plug-in allows you to render 4K videos
Can be used as a VST plug-in or ReWire instrument in another VST host
Advanced help system supplies a context-aware manual
FREE lifetime updates — all future updates and versions are free